Matt Francis
Matt Francis was an incredibly talented musician and athlete. A deep humanitarian and joyful and loving friend, he touched every person he met and changed them for the better.
On January 18th, 2021, less than two weeks before his 30th birthday, Matt died suddenly and unexpectedly in an avalanche while working as a ski instructor in Switzerland. He was not done with his time here on Earth and had so much more to give. 
Words could never do justice to all that was really lost that day.
Matt's whole life he wanted to impact and help people through music. In the last year of his life, he started writing an album, which he never got to release. Though he wasn't done, we have taken what he had recorded and are releasing it on his behalf, with all of the profits going to charities close to his heart.
We would never pretend that this could ever replace all the beauty and joy he would have undoubtedly created, were he still with us, but it is what he left us with and we will do our best to honour his memory with it.
Matt meant the absolute world to everyone he knew, he genuinely changed our lives forever. We know that through watching and listening to him, you will fall as in love with him as we are. Please help us spread his story, so he can continue to touch others' lives the way he so deeply touched ours.
READ MATT'S STORY
LIFE IS BIGGER: THE ALBUM
Life is Bigger is an album created by Matt Francis using just his guitar, loop pedal and computer. Matt recorded every song himself in the various places he loved — his bedroom in the middle of London, his dad's house by the sea in Dover and the cabin in the snow in Switzerland, where he spent his final days. We finished the mixing and mastering of these songs so they can now be released how he intended.
Life is Bigger is aptly named after Matt's mantra and the way he lived his life. Matt treasured and deeply enjoyed every second of life, the beauty of these moments made him always see the bigger picture and never harp on pettiness or the small things. Matt truly lived for others' happiness and always inspired others to live their lives this same way.
GET THE ALBUM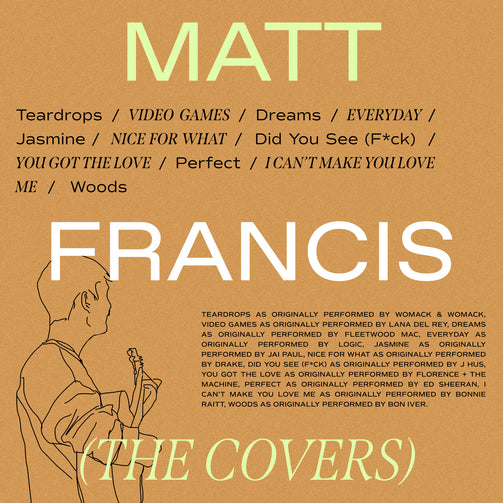 THE COVERS
Matt was extremely talented in taking songs and doing his own take on them, the sound of which were so uniquely his, you would always be able to recognize it as a Matt Francis cover. It is because of this, and his soulsy voice that Matt's loved ones would always ask him to cover their favorite songs. This eventually turned into a series, now compiled here, for everyone to adore as much as we do. These songs were created by Matt using only his voice, guitar and loop pedal.
GET THE COVERS
100% TO CHARITY
Matt had such strong humanitarian beliefs and made it one of his life missions to help create equal opportunities for kids all around the UK. Matt witnessed firsthand the effect he had helping and teaching youth, which he did through his personal passions, music and skiing. By giving kids access to learning, he saw how this gave kids a new sense of purpose, in turn keeping them on a straight path and helping to positively shape their futures forever.
This was one of the most important things in Matt's life and he felt if he couldn't help others through his own abilities, then what was the point.  This is something he continuously strived to do throughout his life.
It is in Matt's honor that we have teamed up with two incredible foundations that forward that same purpose, which all of the profits from his albums will be given to.
FAIRBEATS UK
Fairbeats UK, a music charity that works with young refugees, asylum seekers, newly arrived migrants and their families in community centres across south London by bringing them together through music making and other artistic activities.
SNOW CAMP
Snow Camp, a charity that gives young people from inner-city communities across the UK positive futures through snow sports which Matt himself was involved in.
Choosing a selection results in a full page refresh.
Press the space key then arrow keys to make a selection.